– My name is Sergiy, – a young man from the Red Cross is telling students of Krasnogorivka's School No.2 about mine safety.
This presentation can save your life, Sergiy says. The situation in our region is difficult, he explains to the children.
– Does everybody know we've got a military conflict here?
– Maybe, – a teenager replies jokingly, and everyone laughs.
For this lecture, students from the 6th form to 11th form have been brought.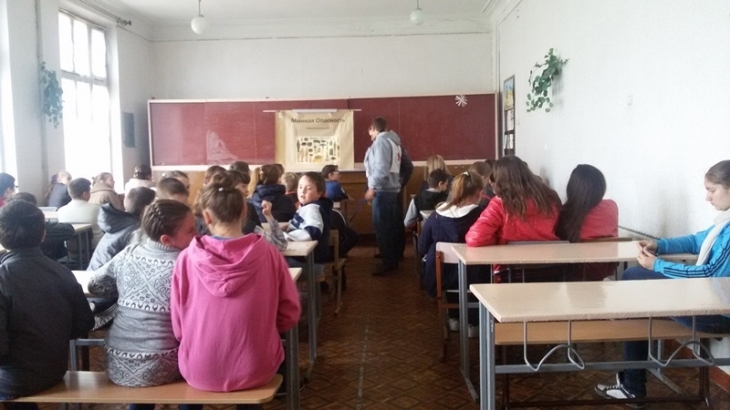 Lessons of safety. Children learn how to protect themselves from mines
When Sergiy asks children about the kinds of mines they know, the class responds actively: anti-personnel, anti-tank…
– Anti-vehicle, – Sergiy corrects them.
– And what kind of mine is that? – he asks.
– A petal one, – several voices shout.
– Here are two mines, – the lecturer goes on. – One is old and rusty, and the other looks so nice, right from the factory. Which one is more dangerous?
– The old one, – the children chorus.
– It can even go off from vibration, – a boy says; he looks like he's from the 6th form by age.
…I leave the classroom quietly.
These days, the premises of school No.2 are the place where actually two schools have their classes – No.1 and No.2.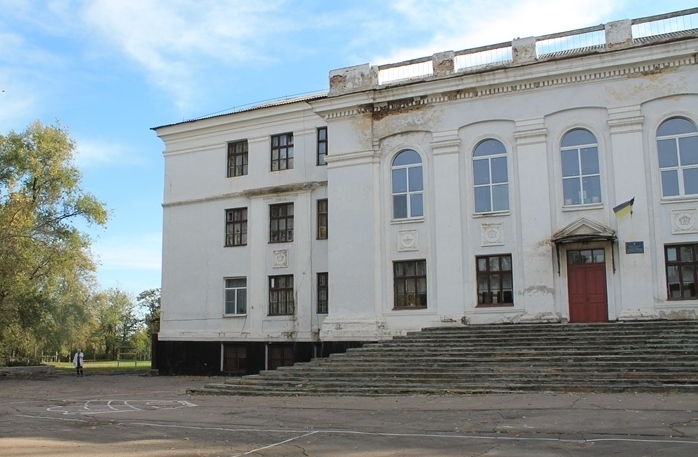 Kransogorivka Comprehensive School No.2
– After school holidays, when the heating season begins, all people will return to school No.5 again, – I hear from Nadia Oksenchuk, director of the education and science department at Donetsk Regional State Administration. I came to Kramatorsk to do an interview with her.
There are five schools in Krasnogorivka, and last year they all taught children in one building on a double-shift basis – in the first shift, children from schools No.5, 4 and 3, and in the second shift – from schools No.1 and 2. That is because school No.5 is a warm place in the city center, located among residential districts, and there are no incoming shells, or almost no shells.
There is no heating in school No.2, and even no windows in one of its wings. Several shells hit the ceiling back in February 2015.
Natalia Anatoliivna, deputy headmaster of school No.2 and Viktoria Viktorivna, a teacher of art and music, take me to the destroyed wing.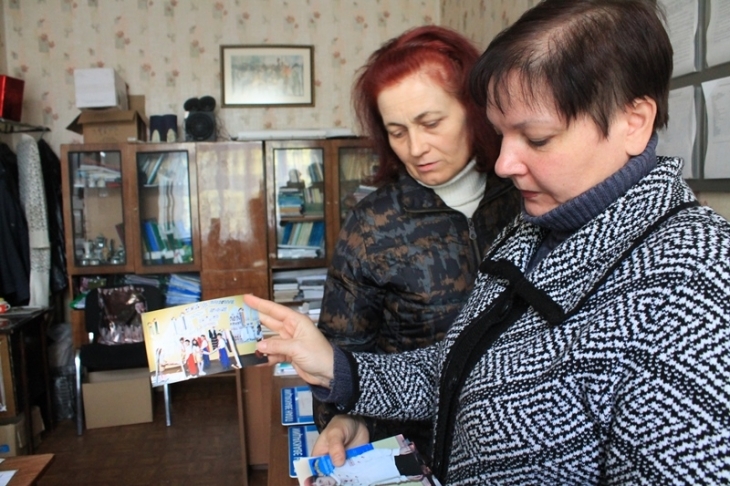 – Journalists from one channel came to our city, – the teachers tell me, – they filmed our school and we took them everywhere just as we do now, and then they made a reportage saying the school had been repaired. You won't do that, will you?
They want the school repaired; they hoped that the old wing (which had no direct hits and windows are still in one piece) would receive autonomous heating and they would not have to move anywhere else to teach children.
– Funding has been allocated for this school as a base school; there will be reconstruction and capital repair works so there is no urgent need to invest into heating repairs – the system will be replaced completely, – I was told at the education department in Kramatorsk.
Nadia Oksenchuk, who visited Krasnogorivka before our interview, explains to me the general situation here: all schools need repairs because they have not been given appropriate funding for years.
– At school No.2 I saw desks with flap lids! You can imagine how old they must be: I had such desk when I went to school myself. It was odd to see such desks today, in the XXI century. However, it was not war that put such desks in the classrooms, – Oksenchuk argues.
Yet heating is a burning problem not only for schools but for the entire city of Krasnogorivka. As soon as the heating is all right, people will come back, and children will return to schools. School No.2 has 123 students today, compared to the pre-war figure of 490.
Once it was the city's largest school, and it has got 11 forms, so it was selected to be a base school. According to Nadia Oksenchuk, 30 mln hryvnia will be assigned for its reconstruction, which she says is not much. The money will come from the regional budget – from the funds known as "other sources."
– It happens that way because the funding allocated for development of infrastructure facilities cannot be given to areas of combat operations, according to the President's decree, – Nadia explains.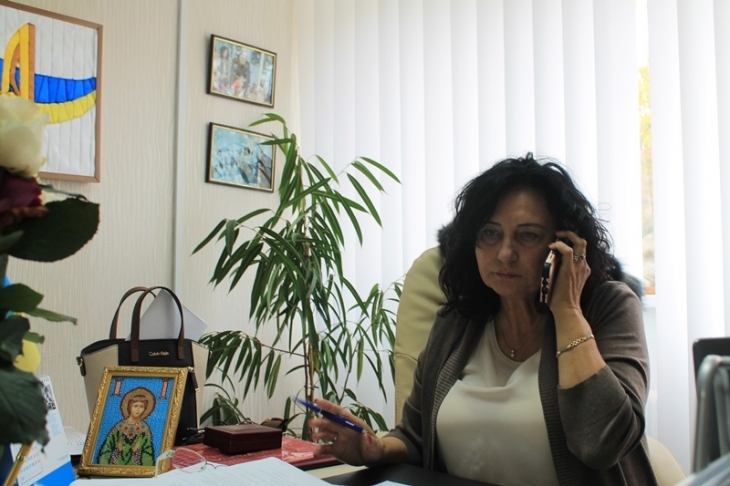 Nadia Oksenchuk, director of the education and science department at Donetsk Regional State Administration
And Krasnogorivka is exactly this kind of area.
There is much shooting around. Even if it is not in Krasnogorivka itself, then in the nearby Mariinka – you can hear it too well. Or in Pisky which is also too close.
Olena Oleksiivna is the headmaster of school No.1 which is situated in Soniachnyi. The school is heavily damaged, so its students have classes in the premises of school No.2.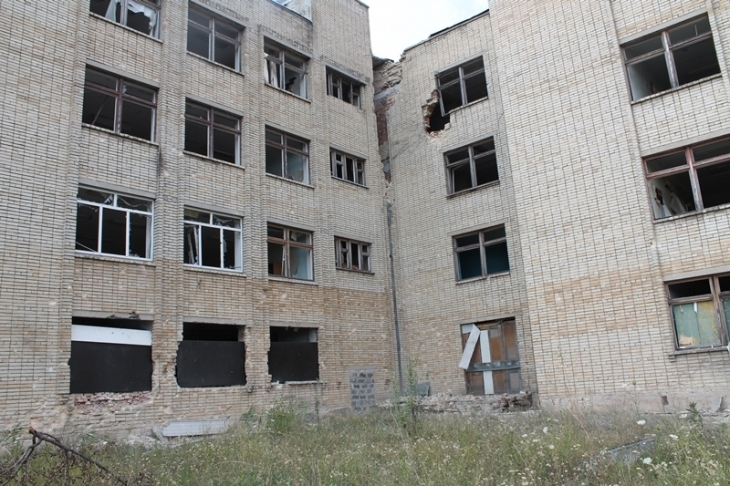 Krasnogorivka Comprehensive School No.1 – consequences of shelling
– We have two holes in the roof – and debris from the 4th down to the 1st floor. The Red Cross promises to bring us some construction materials, so we can at least repair the roof, – Olena Oleksiivna says.
Talks of reconstruction begin, when shooting ends. Before my arrival, the neighboring Mariinka was shelled. Olena Oleksiivna lives at the entrance to Krasnogorivka in the direction of Mariinka, and she can hear shelling and shooting very well. It took a long time yesterday, she says.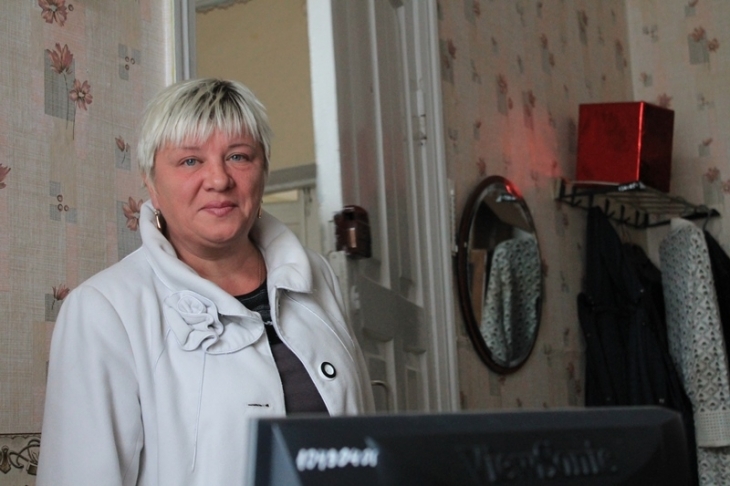 Olena Oleksiivna, the headmaster of School No 1.
Last year, school No.1 had 60 students, and today there are 75. However, before the war it listed 440.
Nadia Oksenchuk points out a tendency: more students coming, less teachers remaining.
Krasnogorivka lost 8 teachers, and now their total number is 81. Meanwhile, the number of children attending primary school increased by 26 (in total, there are 186 of them), and in forms from 5th to 11th – by 15 (today there are 268 students).
– We can see an increase in the number of students both in Krasnogorivka and Mariinka, and especially in Avdiivka. Families are coming back, – Oksenchuk says.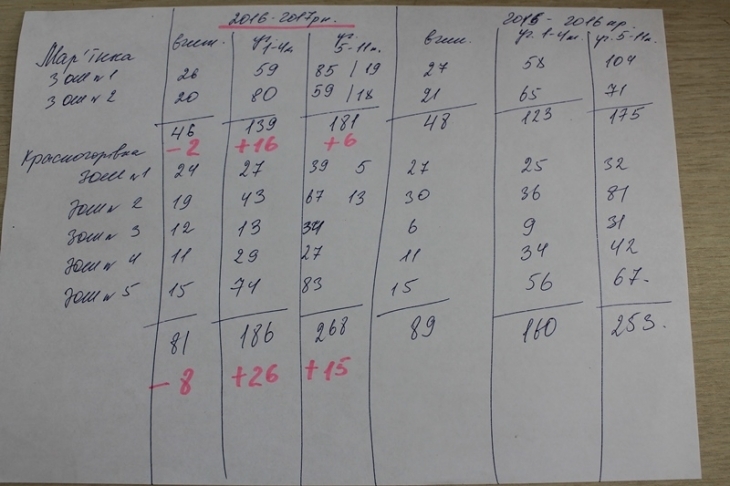 – Five teachers from my school quit and now teach in Kyiv, providing good quality education at private schools, – Olena Oleksiivna says.
There are also teachers who didn't quit but took an unpaid leave: the school catchment area is badly damaged, and some are not willing to live in ruins.
The smallest form in school No.1 includes only 6 children – it is form 3, while the largest one – the 7th form – can boast 12.
These days, the school has students in all forms, but last year, there was no form 5 as the entire class left the city.
Families are coming back – in spite of shelling and shooting. In spite of the city left without natural gas, heating and only service water available.
In spite of unemployment – the fireproof structure plant which is Krasnogorivka's township-forming enterprise does not work, and will not until the natural gas supply is available.
Things are very complicated when it comes to natural gas. The main pipe that was damaged has been repaired recently, the Civil-Military Administration officials say, but there is no gas anyway. Igor Robochyi, deputy head of Krasnogorivka Civil-Military Administration (CMA), explained that they are working on this problem.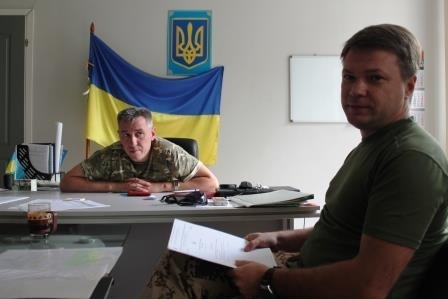 Potable water is brought to school once a week.
Every school has enormous tanks with potable water. From the taps, you can only get service water, but the main thing is that water is available.
The CMA officials explain that the supply systems receive good quality water but it degrades to service water after passing through pipelines which are extremely old, unsafe and leaking in some sections.
However, the people who spent the terrible war winter of 2014-2015 in basements without electricity, gas and water are happy to have even such water as it is.
– There is no problem with water now, – says Olena Oleksiivna, the headmaster of school No.1. – It's service water, but it's available. We also have electricity – keep your fingers crossed.
I smile because on the day when I came to Krasnogorivka, there is a scheduled power cut: power transmission lines are being repaired after the shelling two days ago. So the words "we have electricity" sound somewhat exaggerated.
– Support us, – Olena Oleksiivna says at parting. – Ukraine above all! We want to go to Ukrainian schools in our dear Krasnogorivka.
Ukrainization without alternatives
Before the war, Krasnogorivka had the only Ukrainian-language school – No.3. During the winter, windows had to be replaced four times, says its headmaster Nina Mykolaivna, remembering those hard times.
She managed the only school that gave classes in its premises in the terrible winter of 2014 – 2015. Other schools in Krasnogorivka switched to distant teaching; some teachers, though, had classes at home if it was warm, but this was the case with private houses mostly.
– We worked in that period because we have autonomous heating, while the rest of the city was subjected to real ice age. A church gave us food. Children would ask as soon as they entered the school, "Will we have a meal soon?" We had only one condition – that parents should come and take their children home after classes.
On May 28, they celebrated the end of the school year, and on June 3, the school received several hits. Today, school No. 3 is heavily damaged.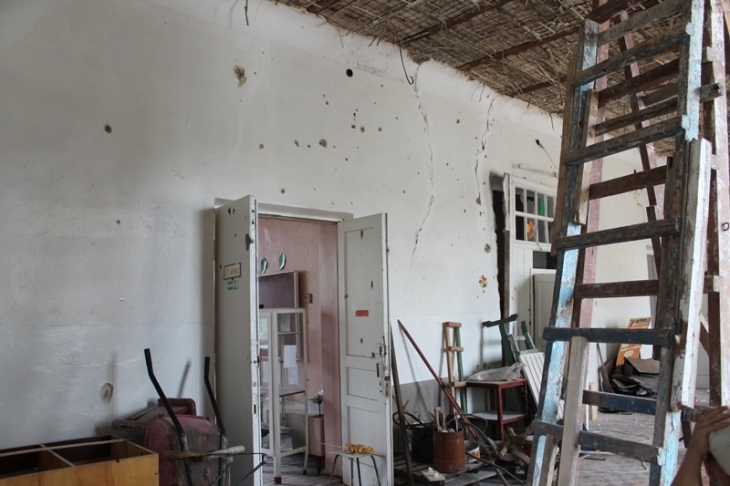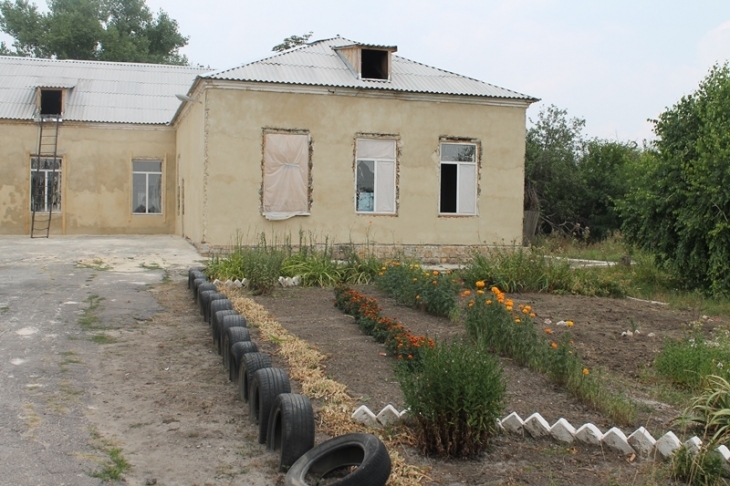 School No.3 will not open so far as it is on the firing line
– We had such bells to ring, and it symbolized "the end of war." The scenario was so heart-touching that even men would cry, – Nina Mykolaivna remembers, and then continues to say:
– It may have happened because of that end of the school year celebration… We shouldn't have advertised it so much…
I met Nina Mykolaivna in summer – she was very busy with repairing the school, admitting new students and dreamt of her school to open on the first of September.
– We wrote official letters to all regional public administrations. The first answer came from Ivano-Frankivsk region, – Nina Mykolaivna touches buttons one her phone to show money transfers from various schools of that region.
They differ by the amount of money – some for 200 hryvnia, some for 500, and some for a thousand.
– On the whole, only 4 regions replied – out of the 23, – the headmaster says, adding:
– Can't the whole Ukraine try and make an effort to restore the only Ukrainian-language school in Krasnogorivka?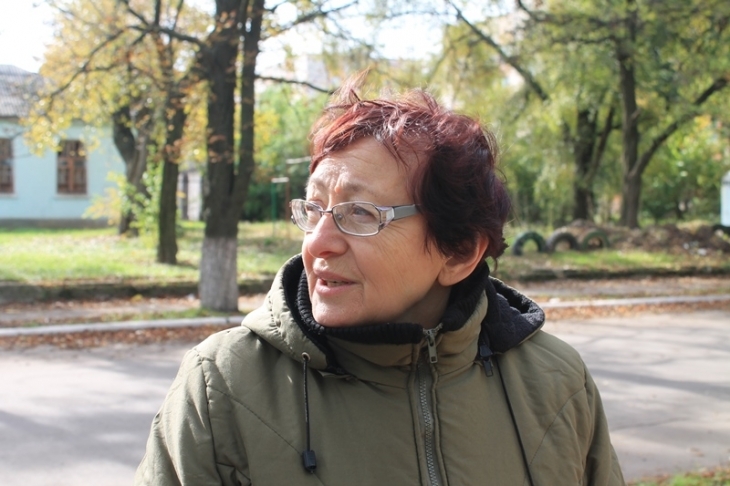 Nina Mykolaivna, the headmaster of Krasnogorivka Comprehensive School No.3
We had this conversation in summer.
The same summer, I spoke to Roman Korzhov and Igor Robochyi, deputy heads of Krasnogorivka CMA.
– Opening school No.3 is out of the question, – Roman said firmly. – Because it is in the firing line.
Igor Robochyi emphasized:
– Children won't be allowed there. It is our opinion, the opinion of the regional board of education, and the only reasonable option.
What about their fundraising, I wondered – after all, the only Ukrainian-language school…
– What's special in being Ukrainian-language school? – Roman replied. – This year we are not admitting children to any Russian-language classes – there are Ukrainian-language groups only…
– What's the people's reaction?
– Well, what reaction did you expect? They aren't delighted, but it's all right, – he concluded.
In fact, children in Krasnogorivka were only admitted to Ukrainian-language classes this year.
School No. 1 had 8 first-graders, School No. 2 – 10, School No. 3 – 6, School No. 4 – 12, and School No. 5 had 25, because this building is warm.
In the staff room of School No. 2, when I asked about parents' reaction cancellation of Russian-language forms, a Physical Education teacher even sounded somewhat hurt: "Their reaction is normal. We are Ukraine, aren't we?"
…
– We have Ukrainian topics everywhere, – the headmaster of school No.4 Alla Volodymyrivna takes me on an excursion to classrooms of her school. – We are all virtually breathing Ukraine! Everything changes – governments, presidents – but Ukraine is always there, you see?
I do see.
While we are talking, school No. 4 hosts the Motherland Defender's Day celebration.
Children wearing chaplets and Ukrainian embroidered shirts sing for parents and Ukrainian soldiers.
School No.4 suffered – not from shelling but from the military.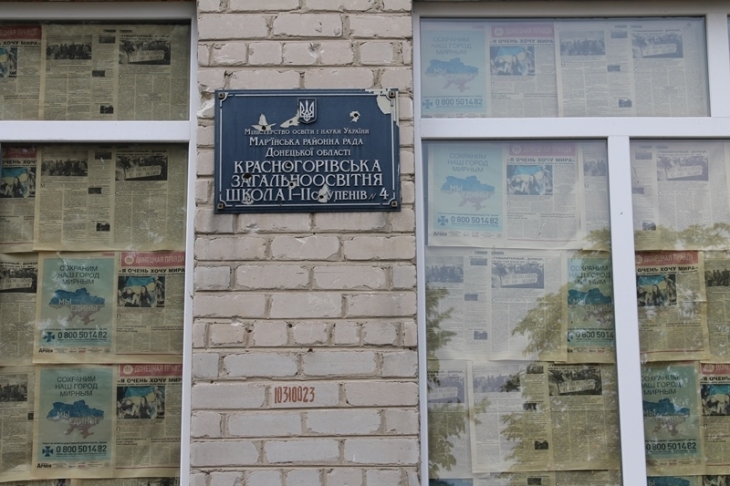 – For over a year, troops were stationed here because it was a military base, – Alla Volodymyrivna says.
She does not tell me much, but the fact is that after soldiers the school was rebuilt almost from the scratch. Many things just disappeared.
The headmaster confirms she has submitted a claim to investigative authorities but refuses to comment on details.
In the summer, teachers brought the school to a kind of working order. The district board of education helped replace the windows.
Today there are 54 children attending the school, compared to the pre-war 90. The teaching staff includes 11 full-time specialists and one part-time teacher.
The school has got its own electricity generator and autonomous heating. The headmaster is going to have the electric wiring replaced. When the summer holidays are over school No.4 is planning to stay in its current building.
It is too little room in school No. 5 – last winter, there were days when two forms had to study in one classroom.
– We have received a permission to use electricity for heating, – the headmaster says. – But if it gets too cold, we'll move to school No.5.
…School No.3 – the Ukrainian-language upper secondary school – has classes in the premises of school No.5.
I meet Nina Mykolaivna by chance – she has just returned from Gorniak where she signed papers to receive 38 windows and 11 doors as assistance from international humanitarian organizations.
The headmaster is still busy with the repairs and hopes for support from the CMA.
I tell her about the military's reasons that the school is in the firing line and it is dangerous…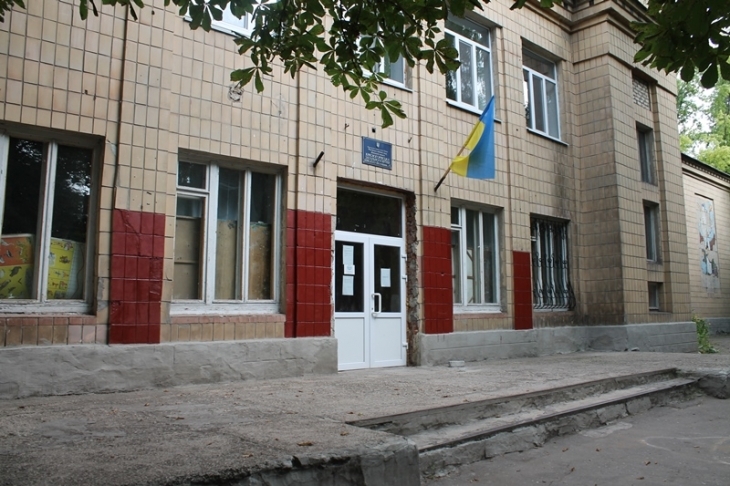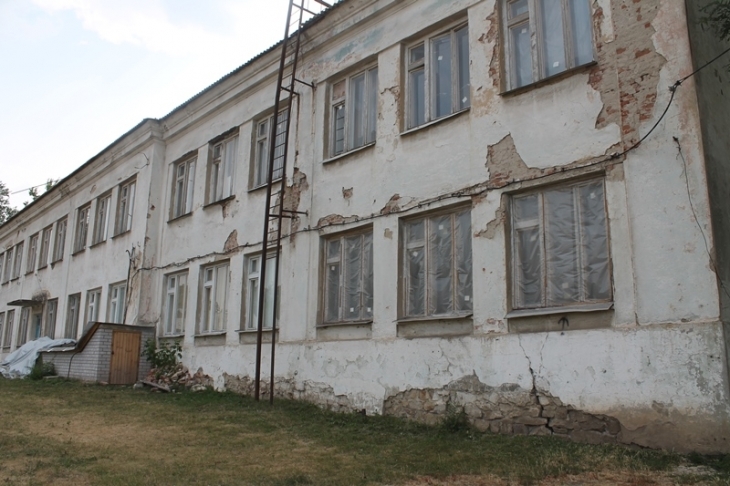 School No.5 – the façade and the courtyard
But there will be peace soon, replies Nina Mykolaivna. There were local rumors that the peace should come on the Virgin of Mercy's day. Then she remembers similar rumors from last year when people expected peace by the New Year's Day, then by Easter…
– When I say "peace" I feel short of breath, – Nina Mykolaivna says.
She is sure school No.3 must be restored, because it is Ukrainian-language, and because it is important for the country.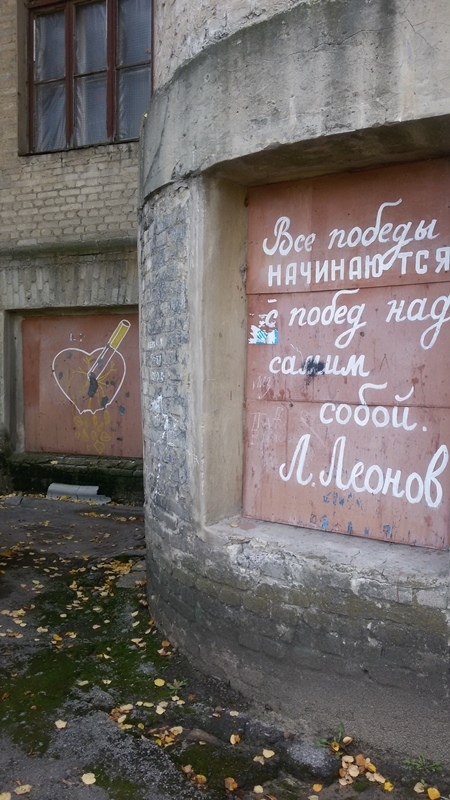 – Please understand that we became a Ukrainian-language school by the call of our hearts, – Nina Mykolaivna tells me.
By her first qualifications she is a teacher of Russian and literature; she used to work in Russia a long time ago, for 10 years, and she learned Ukrainian for reasons other than orders and directives. She tried to find like-minded people for her school staff.
I ask Nina Mykolaivna about the current situation – after all, now schools only offer Ukrainian-language teaching for all first-graders here.
– Well, it happens in a different way now… – she answers in a diplomatic manner. – Parents are wondering why Mariinka has Russian-language forms, and Kurakhovo does, while Krasnogorivka doesn't… Such things should not be done compulsorily.
Officials at the education department confirm that there are various reactions to Ukrainization without choice, and they are not always positive.
Nadia Oksenchuk says that during her trip to Krasnogorivka she only found two teachers and a cleaning woman at school No.2.
– We were talking about languages, and the cleaning woman told me: "We grew up here speaking Russian all our lives and never heard Ukrainian; how can it be – to send all children to Ukrainian-language classes at once?" I explained it: look, you never had a choice, so let your children choose, at least. They won't forget Russian anyway, but they need to know the official language of their country, if they are going to live and work in Ukraine. And if they want to go to other countries, they will have to study English and other foreign languages. Am I not right?
The warm school
Despite the fact that school No.9 is a small one and has only 9 forms, that is was rebuilt from an old hospital and its gymnasium is referred to as "mortuary" because ther was a mortuary there, when the building was a hospital, the war has turned it into the main school of Krasnogorivka. It has the largest number of students, 161.
In the first place, school No. 5 is safe because it is hidden among houses. In the second place, it is warm because it has an autonomous heating system.
It took only one hit for all the time – in the summer of 2016, on July 18.
– Thanks heaven, it was only a solid shot – it hit through the building and didn't explode, – tells us Anna Vitaliivna, a primary school teacher.
Last year she had 16 pupils, and today there are 21.
Her class is still Russian-language, but her daughter went to a Ukrainian-language first form this year.
Anna Vitaliivna says parents show understanding of this fact because we all live in Ukraine. The only problem with some of the parents was their worry if they would be able to help children on the homework as some parents do not know Ukrainian well.
Anna Vitaliivna lives in two cities. She rents a flat in Kurakhovo, but also owns her own flat in Krasnogorivka. When things get loud here, "surprises begin" as she says, she takes her child to the rented flat in Kurakhovo. When everything is quiet, she lives here.
Last year her child attended the kindergarten in Kurakhovo, because such institutions didn't work in Krasnogorivka. Today, one is open already, "The Red Hat," but for three hours a day only. Children are brought here after breakfast and taken home before midday, because there is no water and cooking is forbidden. "The sanitation inspection won't allow it," people say.
Today things were loud in Mariinka, Anna Vitaliivna says, and in the morning there was shooting in the direction of Pisky.
– It was so good before! For about a month, there was not a single shot, – she says.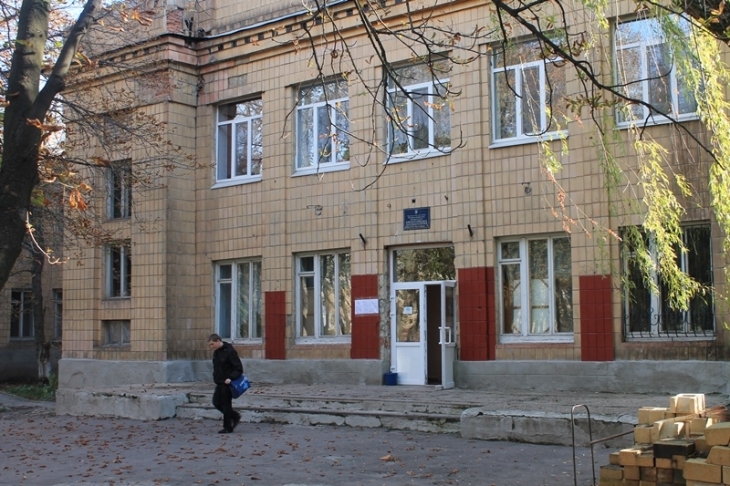 It is better for the nervous system when it is quiet, she says. After a sleepless night, there is no mood to go to school again.
– And I'm in a good mood, – Tetiana Yakivna, a speech therapist, enters the room.
– As I was going to school I saw 6 armored personnel carriers on the road… There is only one road left more or less intact – why destroy it? Why don't they take the other side of the road which is already turned into rubble? I'll tell you why: it's not their city, and they don't care about it…
Tetiana Yakivna asks me to write about it, so I do.
The speech therapist has several times more work to do now.
Anna Vitaliivna comments that in her form last year 8 children worked with the therapist. It's quite a big number. This year, things are almost the same.
Why is that?
Kindergartens did not work. Parents too busy to survive did not attend much to children's development. Before the war, children went to the first form with some reading skills, but now they have none. The teacher is trying to be tactful suggesting that the more or less capable families have left, and most people staying here are from the social class that pays less attention to children.
In addition, children are anxious. There were cases when an accidental explosion in the distance sent half a classroom to the floor.
There are also many children with speech defects, and the number of those having difficulty to speak has increased, with several children who can only babble. These are poor creatures that spent half their childhood hiding in a basement.
– What we've got to deal with now is the result of fear and lack of socialization, – educators explain.
However, they ask me not to blacken the picture: a year at school can bring a class to a more or less similar level.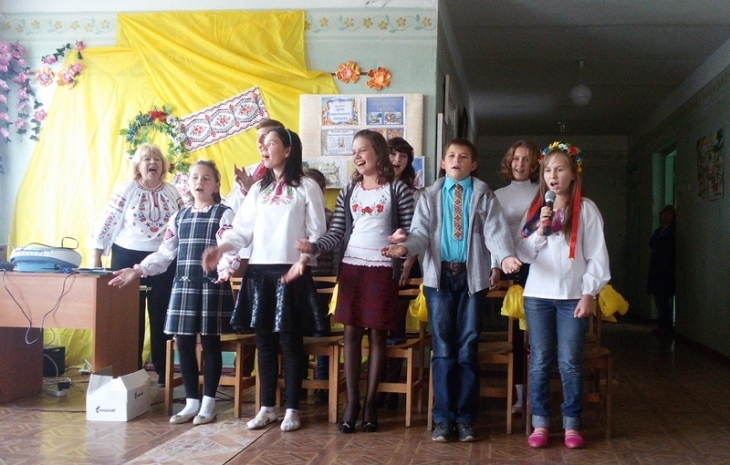 A school celebration at Comprehensive School No.4
Another topic for conversations in the staff room is coal and water.
To survive winter in Krasnogorivka, you have to get a cylinder of natural gas and an electric stove for cooking, and a metal coal-fed heater to keep your room warm.
And five tons of coal at the price of 2,500 hryvnia a ton.
Torchlights to use during power cuts and when going out in the night.
Some have electric boilers for warm water but that seems a luxury. Most people wash themselves in basins. The main thing is to warm up the room before washing.
During the break, more and more teachers come to the staff room. We discuss living in the city.
– People can get used to anything. No power cut yesterday – we were happy. A scheduled power cut today – we will wait, and when the light is back we will cheer up again. There is already some water in the tap. All right, it's service water, but at least you can wash some clothes and flush the toilet. And we spent the previous year without water at all!
We also discussed a shooting tournament involving students of the 8th and the 9th forms planned on the Motherland Defender's Day. They will use airgun rifles. Some teachers disapprove of the idea, and I take sides with them. I don't like weapons.
– But children are interested! – one of the teachers argues.
We also speak about peace.
– Our students would read at the concert "I love Ukraine, I love my people…" to the accompaniment of distant shooting, and I felt tears coming to my eyes… – one of the women teachers says.
Tetiana Yakivna looks at me for a long time before saying:
– We need peace. Write about it or not, but we can't bear it. We are being killed – physically and morally. We're fed up with everything. Nothing can be done until they come to an agreement. Don't call us separatists. We are not. We just want the shooting to stop. Let's be honest: they are lining their pockets and they can't stop while we are dying. Every journalist coming here goes back only to write things like "Another concert in Krasnogorivka," "A kindergarten opens in Krasnogorivka"… Nobody wants to write the truth: they all say we are fine here. And you will write the same.
Lesia GANZHA, for KURS
This reportage was made within the framework of project undertaken with the financial support of the Government of Canada provided through the Global Affairs Canada